Incubate Village 2005
International Symposium for AIDS Preventive Education (held on May 19, 2005)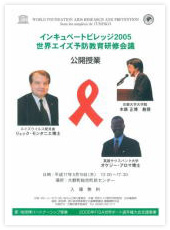 The "International Symposium for AIDS Preventive Education" was held jointly by WFARP Japan Office and Ono-town in Gifu as part of the town event called "ACTIVE TOWN PROJECT WITH ROSE AND HUMOR" (Expo 2005 Aichi Japan partnership project)
For this Symposium, we invited Prof. Luc Montagnier (HIV discoverer), Pr Masahiro Kihara (Japanese leading expert in the field of AIDS epidemiology.
-Topic 1- Open Class with children in Ono-town was held on the stage.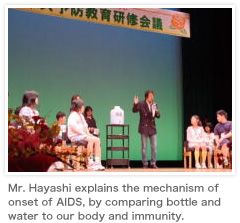 We made an open class on the stage and studied about AIDS with 30 children of Ono Elementary School in Ono-town. It was realized in accordance with the wish of Prof. Luc Montagnier. He was eager to get the real voices of children in Japan.
It was the first attempt to have an open class on the stage, so the 30 children were looked nervous in the beginning in front of a large audience.
-Topic 2- Lectures of three AIDS experts
Firstly, Prof. Kihara from Kyoto University Postgraduate School, made a presentation on "The current situation of AIDS in the world and in Japan", then Dr. Okezie from London Southbank University made presentation on "The current situation of AIDS in Africa". They made a good lecture using slides to expand knowledge of the audience.
Then these presentations were followed by speech of Prof. Luc Montagnier. He talked about the importance of being cautious not to get infected by HIV since no cure is known for AIDS at the moment.He also insisted the importance of nutritional approach to strengthen immune system for the HIV treatment as well as HIV prevention.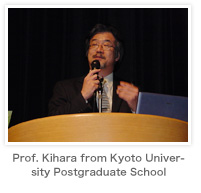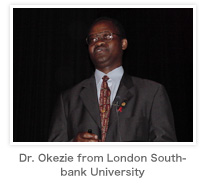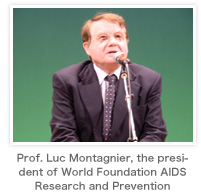 -Topic 3- Questions and Answers with Junior High School Students in Ono-town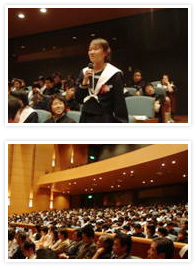 After the lectures of three professors, the brass band club of Ono Junior-High School gave a wonderful performance during the break.
Then it was followed by the "Q&A with World Aids Experts" and children from Ono Junior High School, Ito Junior High School and Ono Elementary School asked questions to the three professors.
They receive basic Aids education as a part of their curriculum at school, so they raised their hands one after another and took the opportunity eagerly to talk directly with those professors and made good questions.
Some of the questions form children are: "Why can't HIV survive outside blood?" "Is there possibility for a junior high school student to get infected by HIV?" "I heard even if one percent of population of a country gets infected by HIV, it would lead to ruin of the country. What about Japan?" "How should I behave if my friend gets infected by HIV?" The three professors answered all the questions from their point of view.
This Q&A session lasted for about one hour. It was broadcast by NHK news on that say and introduced in the newspapers, such and Gifu, Chunichi, Asahi later.