World Foundation Aids Research and Prevention Japan Office have various charity activities to support Aids Researches.
Donation we made for the WFARP AIDS Research Center
$19,100- as of January 2009
Gifu Television Live Broadcast of the Annual "Charity Special" Program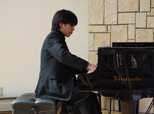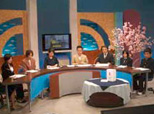 Every year in March, Gifu Television broadcasts the annual program called "Charity Special", which we have been cooperating since 2005.
In 2005, the interview with Mr.Hayashi and charity concert at the hall of Osato Research Institute was broadcast live.
In 2006, the interview with Mr. Hayashi and our lecture at school which were taped beforehand were broadcast, and in 2007 and 2008 we participated in live broadcast at the studio of GIFU television, together with teachers and students of High schools in Gifu (2007), and Mr. Yoshihiro Ota played the piano, who has been supported our charity activity.
We have been supporting "charity special" hoping that it would help more young people know better about importance of AIDS prevention and self-protection for a significant other to continue our activities.
Charity concert at the yma hall in Osato Research Institute
We invited various guest as players every time we have a charity concert at the yma hall in Osato Research Institute. In this hall, you can really "feel" music so close to you!
The proceeds of our charity activities such as charity concerts will be sent to the Abidhan Aids Research Center for the benefit of African people suffering from HIV/AIDS.
Yoko Tokue Piano Recital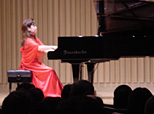 There was the 5th charity concert by Ms. Yoko Tokue, who had been having such annual charity concert since 2001 at Oji-Hall in Ginza, Tokyo. It received a brilliant final installment in a series with a counselor of Cote D'lvoire Embassy as a special guest. He made a speech on the stage at the end of the concerts and gave everyone there his gratitude.