Prof. Luc Montanier, the president of World Foundation Aids Research and Prevention, received 2008 Nobel Prize in Physiology or Medicine!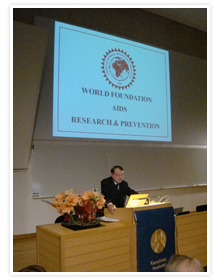 In 1983 he led the research team at the Pasteur Institute in France which first isolated what would later be called HIV, the virus that causes AIDS.
In 1986 he and his associates isolated HIV 2, the second AIDS virus.
Prof. Montagnier's team was also the first, in 1991, to identify apotosis, an active program of cell death, as one of the likely causes of the disappearance of T4 lymphocytes in HIV infected patients.
Being especially concerned about the increase of HIV infection throughout the world, Prof. Montagnier and Federico Mayor, ex-Director General of UNESCO, founded the World Foundation of AIDS Research and Prevention (WFARP) to encourage research in developing countries.
Prof. Montagnier opened an AIDS research center in the Ivory Coast named "The Abidjan Center for Bioclinical Research and Care" (known in French as CIRBA, Centre Integre de Recherches Biocliniques d'Abidjan) in order to make new treatments and vaccines accessible to patients in Africa, where the AIDS epidemic has hit harder than anywhere else in the world.
CIRBA continues to expand its activities as more and more patients come to the center due to the fact that many clinics and hospitals have suffered in the recent regional conflicts.Moreover, a second center organized by WFARP in Yaounde, Cameroon opened on February 23, 2006.
Prof. Montagnier has been working diligently to research on food to improve immunity and develop vaccines which we hope someday will replace the expensive medications currently available for HIV/AIDS.