18th Annual Meeting of Japanese Society of AIDS Research


18th Annual Meeting of Japanese Society of AIDS Research
Special Public Symposium
- Let's talk with Prof. Montagnier - (10th of December, 2004)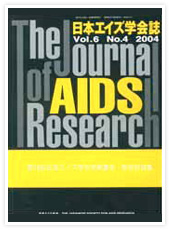 We participated in the 18th Annual Meeting of Japanese Society of AIDS Research at the Shizuoka-Convention Arts Center from 9th to 11th of December, 2004. It was third time around for us to participate in this meeting. There were more than 1000 participants including medical associates, educators, and NPO associates, etc..
This time, we organized a public symposium by Prof. Luc Montagnier on the second day of the meeting. It was realized by a request from Dr. Mimaya, the chair man of this meeting. Following are the reports from the meeting which was held in the memorable year, 20 years from HIV discovery of prof. Montagnier.
-Topic 1- Preventive Activities at the Booth with a new display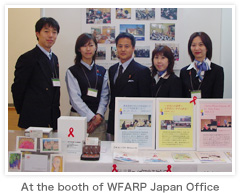 We ran a booth and distributed leaflets for Aids prevention and sold charity goods (red ribbon pin badges, postcards).
We had 5 staffs and new displays and materials to promote our activities this year and talked to many people at our booth and they took interest in our activity.
The proceeds from the charity goods sale and their donations for 3 days amounted to ¥53,200- in total.
-Topic 2- Three "Defenders" with Red Ribbon Logo
On the second day of the meeting, the actual day for the special public symposium, at the Granship Square next to the meeting place, we attracted the attention of participants of the meeting as well as Shizuoka citizens to the symposium with three "defenders" with Ribbon Logo which symbolize strength and will power to go ahead. Prof. Motagnier also came to support us for our PR activities.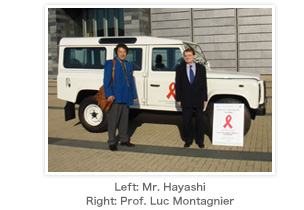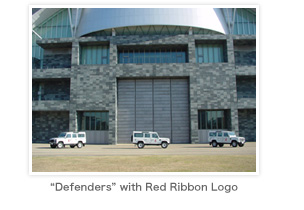 -Topic 3- Public Symposium ˜Let's talk with Prof. Montagnier˜
The symposium was opened by Mr. Hayashi, a secretary general of World Foundation Aids Research and Prevention Japan Office and an Opening speech was made by Dr. Mimaya, a chairman of the meeting of the Japanese Society of Aids Research, which was followed by piano concert of Ms. Yoko Tokue.
After the piano concert, the audience received a lecture from Prof. Masahiro KIHARA (a professor at graduate school of Kyoto University). He explained how AIDS/HIV have spread in the world and current situation and prospect in Japan.
Then Prof. Luc Montagnier had a speech on his HIV discovery (the isolation of the causative virus) and AIDS research afterwards, and he mentioned his University Study as well for students.
And then the main event of this symposium is Q&A between University Students and Prof, Montagnier started. They made questions, such as "What I can do not to get infected by HIV?" "What do you think about AIDS Panic caused by media?" "At what age we should start educate children about AIDS?" "What is a plan for your future research?" and so on. Following is points of the answers from Prof. Montagnier
It is essential to educate children to protect them from HIV/AIDS, ideally at the age of 10-12 year-old. It is considered taboo to talk about sexual topics to children and this is a common problem everywhere in the world, but we have to make a breakthrough.
The therapies for HIV/AIDS have been improved, however, it is still incurable and the treatments are unavailable in many poorer countries. We are now intent on the development of inexpensive therapeutic vaccines.
HIV is spread through the blood and body fluids of an infected individual, so it would prevent the disease if you could avoid the direct contacts with high-risk activities, which include unprotected sexual intercourse and intravenous drug use (sharing needles).
We have to be aware that Aids is not a contagious disease and not to have prejudice against AIDS patients.