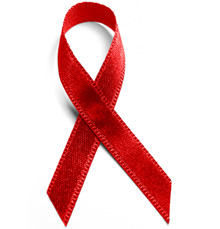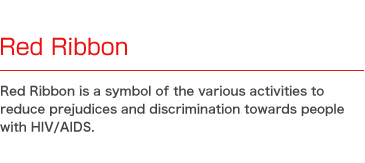 "Red Ribbon" was originally old European custom to express their sorrow over death of people who couldn't live out their lives due to illnesses or accidents.
It was near the end of the 80's when Aids became a serious social issue that this Red Ribbon started to be used as a symbol for solidarity with HIV positive and people living with AIDS. It was because HIV started spreading rapidly among artists and musicians in New York and many people died from it. The Red Ribbon movement was started by their friends to express their feelings for those dead and also sympathy and understanding for those who are living with HIV/AIDS. This movement is now spreading among people who felt empathy for the idea all over the world and helps public awareness on Aids issue.
World Foundation Aids Research and Prevention Japan Office raise roses called "Red Ribbon" which is a symbol of comprehension and support for those who live with HIV. It was named "Red Ribbon" because the red petals of the rose feel like a velvet ribbon. It was a little weak and small seedling in the beginning, but it has grown to have lots of flowers.
Its grafted seedlings succeeded and they also started to have pretty flowers this year. World Foundation Aids Research and Prevention Japan Office decided to donate them to all the primary and junior high schools in Ono-town. The student representatives and principals of each 6 elementary schools and 2 junior high schools in Ono- town participated in the presentation ceremony. Mr. Hayashi handed the roses to each child, and they said kind words.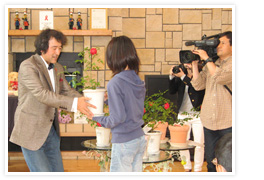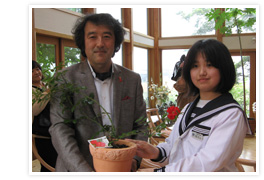 The ceremony was broadcast by Gifu TV on the day, and reported by Newspapers, such as Gifu, Chunichi, Yomiuri, Mainichi etc on the following day. The Ono-town is famous as top producer of rose seedlings in Japan. We hope children in this town grow these roses as well as something in their hearts together with the message of the "Red Ribbon".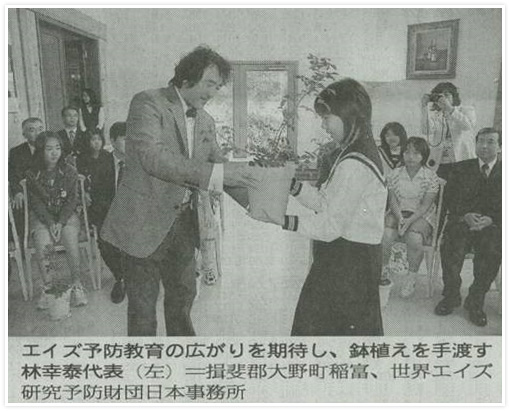 Mr. Hayashi, secretary general of the World Foundation Aids Research and Prevention Japan Office handed the roses to a representative student, hoping that movement of Aids prevention activity will grow and spread with the roses. @ WFARP Japan Office, Inatomi Ono-town Ibi-county Gifu JAPAN