GLOBAL SUMMARY OF THE AIDS/HIV EPIDEMIC

(November, 2010 UNAIDS/WHO)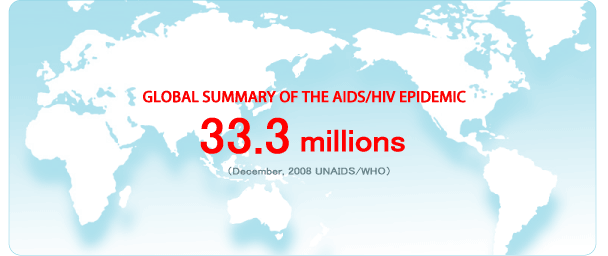 | Area | Numbers | Area | Numbers |
| --- | --- | --- | --- |
| Western Europe and Central Europe | 820 thousands | Eastern Europe and Central Asia | 1.4 millions |
| East Asia and Pacific area | 770 thousands | Middle East and North Africa | 460 thousands |
| Sub-Saharan Africa | 22.5 millions | South and South- East Asia | 4.1 millions |
| Oceania | 57 thousands | North America | 1.5 millions |
| Caribbean | 240 thousands | Latin America | 1.4 millions |
*The above figures are the estimates based on the best available information.
Since 1999, the year in which it is thought that the epidemic peaked, globally, the number of new infections has fallen by 19%. Of the estimated 15 million people living with HIV in low- and middle-income countries who need treatment today, 5.2 million have access--translating into fewer AIDS-related deaths. For the estimated 33.3 million people living with HIV after nearly 30 years into a very complex epidemic, the gains are real but still fragile. Future progress will depend heavily on the joint efforts of everyone involved in the HIV response.
(the UNAIDS Report on the global AIDS epidemic 2010)
REPORTED NUMBER OF HIV/AIDS CASES IN JAPAN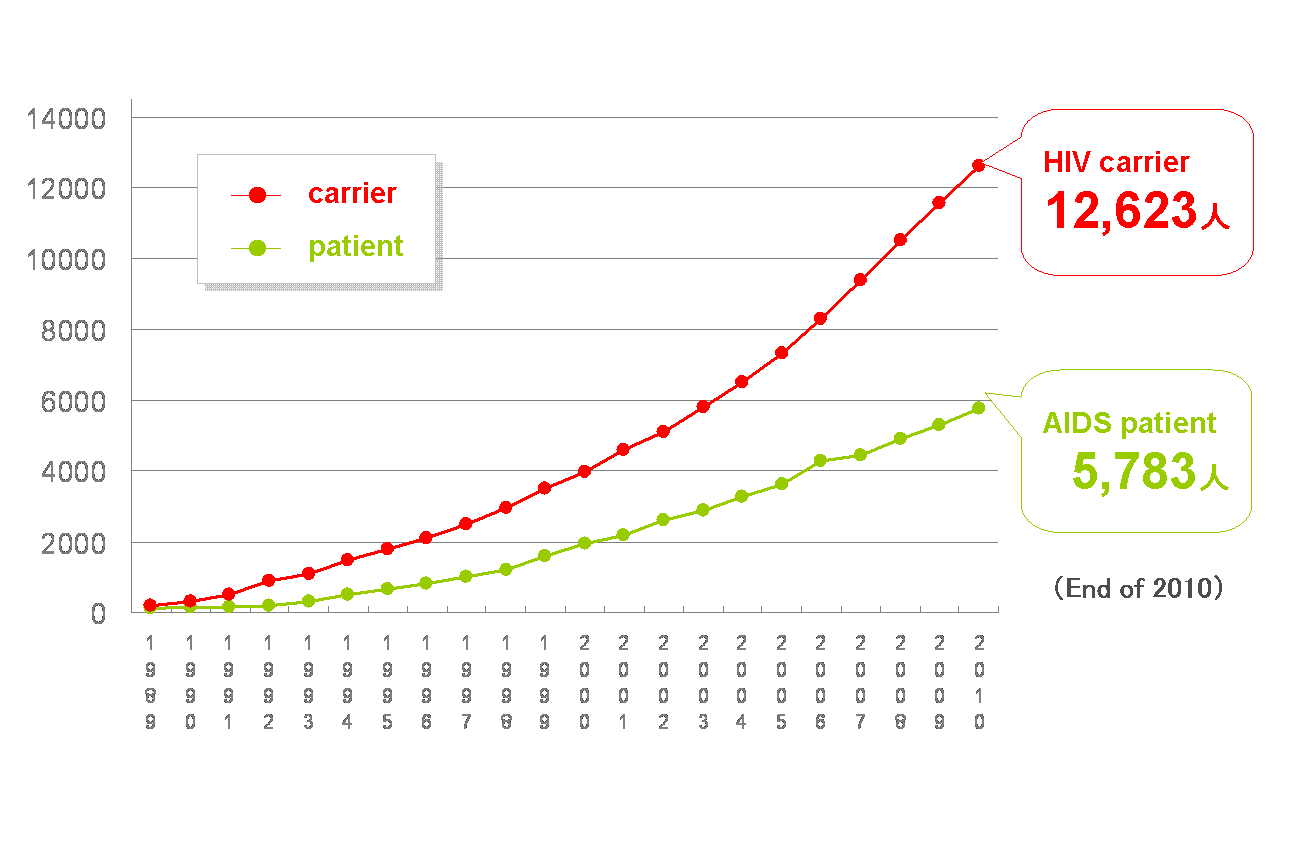 In 2007, 1082 people became infected with HIV and 418 developed AIDS in Japan, making a total of 1,500 (4.1per a day). These numbers are relatively low compared with other countries, but the number of cases in Japan continues to increase every year. Also, it must be noted that these are only "reported cases." Some specialists say that there are probably 5 to 10 times as many HIV carriers as are actually reported, and they are not aware that they are infected.
(Japan Ministry of Health, Welfare & Labor, AIDS Trend Committee Annual Report)